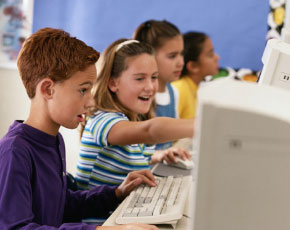 America's Education Guides are the most comprehensive resource publications detailing key information about public schools, private schools, private preschools, charter schools virtual and special needs schools, colleges and universities, and other educational resources in their respective regions. Our guides provide valuable first-hand school information to families inquiring about educational options, including detailed test scores for every grade; school grade ratings; private school data; demographics and statistics; state requirements and much, much more!
Parents are concerned about education. School locations and the programs they offer have a huge impact on family decisions about where to relocate. America's Education Guides allow parents to use our factual, data-based resource tools when they previously had to rely on second-hand information. National statistics now show that 64% of new homeowners have school age children. This statistic alone clearly indicates why America's Education Guides are the most sought-after publications for families in the regions we cover.
America's Education Guides are distributed to public and private schools; Chamber of Commerce's; Realtor offices; builder sales offices and model homes; all advertisers and other major institutional relocation and human resource divisions involved in moving families into the respective areas where the Guides are published.
Our research department spends hours collecting data from public school districts, private schools and other institutions; and sorting it all out to present to our readers in a clear and concise manner.
America's Education Guides currently produce in Florida The Northeast Florida, Central Florida, Greater Tampa/St Petersburg, Palm Beach/Treasure Coast, and South Florida Education Guide — all featuring the same high levels of professional production quality and usability.
Help parents make informed decisions about the education of their children with one of the nation's most informative guides on education — America's Education Guides!